Lap Times
With the advanced stopwatch, you can show lap times. A press on the button "lap" adds a new lap to the lap table. In addition to showing lap times and split times, the fastest and the slowest laps are also shown.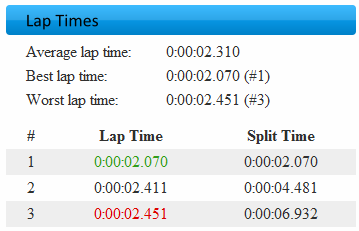 Settings
In the settings menu, you can change size and number of decimals of the clock. You can also choose to show lap times or not. It is also possible to switch between the simple and the advanced stopwatch.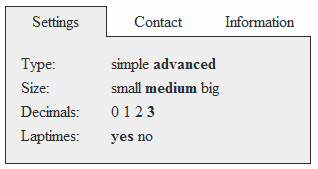 Multiple stopwatches
It is possible to have several stopwatches running at the same time. You press the plus sign to open a new stopwatch and the cross to close a stopwatch. Choose a stopwatch by pressing the tab you want to show. There is no limit on how many stopwatches you can open, but the tab bar can only show five tabs.

Short Commands
Besides controlling the stopwatch with the icons on the screen, you can also use shortcuts on the keyboard. For instance, you start the clock by pressing space bar.
Start/Pause/Continue
Space bar
Lap
L
Stop/Reset
Delete
Big text
B
Medium text
M
Small text
S
Decimals
Matching number (0-3)
Use lap times
Y
Don't use lap times
N
Open new stopwatch
+
Close current stopwatch
-